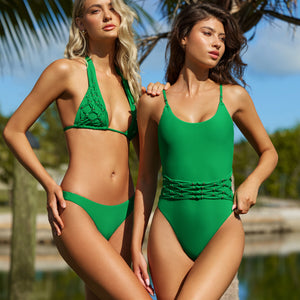 New Swim & Resort
New Swim & Resort
Are you prepared for the beach season? PQ Swim has a wide selection of poolside attire, including bathing suits, cover-ups and casual outfits. As the weather heats up, why not treat yourself to a look at our new swimwear arrivals?
Embrace Your Style
Whether you're interested in new bikinis or glamorous accessories, fashion is all about expressing yourself. That's why we offer a wide selection of swimwear:
At PQ Swim, you can find classics, such as animal prints and solid colors, as well as the latest trends. Our newest offerings include crochet swimwear, lingerie-inspired bikinis and retro-print suits. With so many styles and sizes to choose from, you're sure to find something that fits you like a glove.
Refresh Your Vacation Wardrobe
What's better than a new swimsuit? A snazzy outfit to wear over it! Whether you plan to take a tropical trip or just chill on a relaxing staycation, new resort wear can add a layer of excitement to your plans.
An excellent place to start is a good-quality cover-up. These garments range from maxi-dresses to transparent wraps, but they all offer the same benefits:
Help you adhere to hotel dining dress codes
Provide a protective barrier between your skin and intense sunlight
Look super cute and feel incredibly comfortable
The newest trends have introduced even more cover-up options, including ponchos, rompers and pants. You can even mix and match items for unique outfits.
Check Out New Swimwear
If your old bikini has seen better days, check out the new arrivals on PQ Swim. We're proud to offer swimwear everyone can enjoy.